Lai, Fong Woon (2014) A Conceptual Framework for Enterprise Risk Management performance measure through Economic Value Added. In: International Conference on Leadership and Management - ICLM 2014,.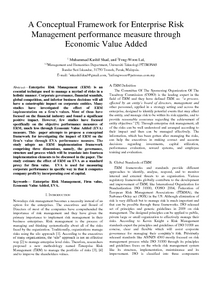 Preview
PDF




ICLM 2014_Kashif.pdf


Download (493kB) | Preview
Abstract
Enterprise Risk Management (ERM) is an essential technique used to manage a myriad of risks in a holistic manner. Corporate governance, financial scandals, global competition, and inferior business decisions will all have a catastrophic impact on corporate entities. Many studies have investigated the effect of ERM implementation on a firm's values. Most of them have focused on the financial industry and found a significant positive impact. However, few studies have focused specifically on the objective performance measures of ERM, much less through Economic Value Added (EVA) measure. This paper attempts to propose a conceptual framework for investigating the impact of ERM on the firm's value through EVA performance measure. The study adopts an ERM implementation framework comprising three dimensions, namely, the governance, structure and process which will be translate into fourteen implementation elements to be discussed in the paper. The study estimate the effect of ERM on EVA as a standard proxy for firm value. EVA is used for measuring corporate performance in specific way in that it computes company profit by incorporating cost of capital.
Actions (login required)