Ramli, Anita and Muhammad , Farooq and Mohamad, Mas Fatiha (2014) Mo/γ-Al2O3-MgO as a Bifunctional Catalyst for Renewable Hydrogen Production from Steam Reforming of Glycerol. [Citation Index Journal]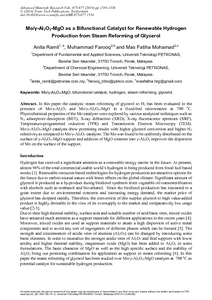 Preview
PDF




Anita&Farooq&Mas 2014 - Bifunctional Catalyst for Renewable Hydrogen Production from Steam Reforming of Glycerol.pdf

- Published Version
Download (297kB) | Preview
Abstract
In this paper the catalytic steam reforming of glycerol to H2 has been evaluated in the presence of Mo/γ-Al2O3 and Mo/γ-Al2O3-MgO in a fixed-bed microreactor at 700 oC.
Physiochemical properties of the Mo catalysts were explored by various analytical techniques such as N2 adsorption–desorption (BET), X-ray diffraction (XRD), X-ray fluorescence spectrum (XRF), Temperature-programmed reduction (TPR) and Transmission Electron Microscopy (TEM).
Mo/γ-Al2O3-MgO catalysts show promising results with higher glycerol conversion and higher H2 selectivity as compared to Mo/γ-Al2O3 catalysts. The Mo was found to be uniformly distributed on the surface of γ-Al2O3-MgO support and addition of MgO contents into γ-Al2O3 improves the dispersion of Mo on the surface of the support.
Actions (login required)