Ramli, Raihan Mahirah and Chong, Fai Kait and Omar, Abdul Aziz (2014) Visible-Light Photodegradation of Diisopropanolamine using Bimetallic Cu-Fe/TiO2 photocatalyst. Advanced Materials Research, 845. pp. 421-425. ISSN 1662-8985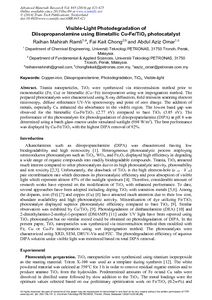 Preview
PDF




AMR.845.421.pdf


Download (1MB) | Preview
Abstract
Titania nanoparticles, TiO2 were synthesized via microemulsion method prior to
monometallic (Fe, Cu) or bimetallic (Cu−Fe) incorporation using wet impregnation method. The
prepared photocatalysts were characterized using X-ray diffraction, field emission scanning electron
microscopy, diffuse reflectance UV-Vis spectroscopy and point of zero charge. The addition of
metals, especially Cu enhanced the absorbance in the visible region. The lowest band gap was
observed for the bimetallic Cu-Fe/TiO2 (2.77 eV) compared to bare TiO2 (3.05 eV). The
performance of the photocatalysts for photodegradation of diisopropanolamine (DIPA) at pH 8 was
determined using a batch glass reactor under simulated sunlight (980 W/m2). The best performance
was displayed by Cu-Fe/TiO2 with the highest DIPA removal of 92%.
Actions (login required)