Kadhim, Kais and Habeeb, Luwaytha and Sapar, Ahmad Arifin and Hussin, Zaharah and Abdullah, Muhammad Ridhuan Tony Lim (2013) AN EVALUATION OF ONLINE MACHINE TRANSLATION OF ARABIC INTO ENGLISH NEWS HEADLINES: IMPLICATIONS ON STUDENTS' LEARNING PURPOSES. [Citation Index Journal]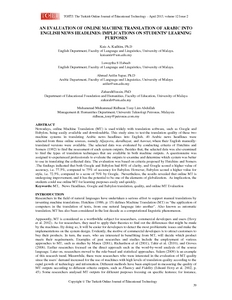 Preview
PDF




tojet paper 2.pdf


Download (374kB) | Preview
Abstract
Nowadays, online Machine Translation (MT) is used widely with translation software, such as Google and
Babylon, being easily available and downloadable. This study aims to test the translation quality of these two
machine systems in translating Arabic news headlines into English. 40 Arabic news headlines were
selected from three online sources, namely Aljazeera, daralhayat, and Aawsat, where their English manuallytranslated
versions were available. The selected data was evaluated by conducting criteria of Hutchins and
Somers (1992) to find the assessment of each system outputs. Besides that, the selected data was also examined
to find the types of translation techniques that are available in both machine outputs. A questionnaire was
assigned to experienced professionals to evaluate the outputs to examine and determine which system was better
to use in translating the collected data. The evaluation was based on criteria proposed by Hutchins and Somers
.The findings indicated that both Google and Babylon had 80% of clarity, and Google scored a higher value of
accuracy, i.e. 77.5%, compared to 75% of accuracy for Babylon. However, Babylon scored a higher value for
style, i.e. 72.5%, compared to a score of 70% by Google. Nevertheless, the results revealed that online MT is
undergoing improvement, and it has the potential to be one of the elements of globalization. As implication, the
students could use online MT for learning purposes easily and quickly.
Actions (login required)