Nurdin, Zulbahri and Siraj, Saedah and Hussin, Zaharah and Abdullah, Muhammad Ridhuan Tony Lim (2013) Post Natural Disaster Education: In-Service Teacher Training Curriculum In Aceh. [Citation Index Journal]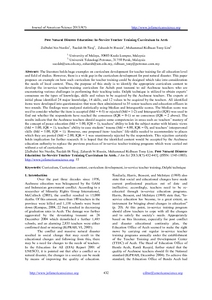 Preview
PDF




journal of american science.pdf


Download (270kB) | Preview
Abstract
The literature holds huge examples on curriculum development for teacher training for all education level and field of studies. However, there is a wide gap in the curriculum development for post natural disaster. This paper proposes an example on how such curriculum for teacher training could be designed which take into consideration the needs of local context. Thus, the purpose of this study is to identify the appropriate curriculum content to develop the in-service teacher-training curriculum for Acheh post tsunami to aid Acehnese teachers who are encountering various challenges in performing their teaching tasks. Delphi technique is utilized to obtain experts'consensus on the types of knowledge, skills and values to be acquired by the Acehnese teachers. The experts at initial phase identified 24 major knowledge, 14 skills, and 12 values to be acquired by the teachers. All identified items were developed into questionnaires that were then administered to 35 senior teachers and education officers in
two rounds. The findings were analyzed statistically using Median and Interquartile scores. The Median score was
used to consider whether the item is accepted (Md = 4-5) or rejected (Md = 1-2) and Interquartile (IQR) was used to
find out whether the respondents have reached the consensus (IQR = 0-1) or no consensus (IQR = 2 above). The
results indicate that the Acehnese teachers should acquire some competencies in areas such as: teachers' mastery of
the concept of peace education (Md = 5.00, IQR = 1), teachers' ability to link the subject matter with Islamic views
(Md = 5.00, IQR = 1), teachers' ability to ease students' trauma (Md = 4.00, IQR = 0), and teachers' interpersonal
skills (Md = 5.00, IQR = 1). However, one proposed item- teachers' life-skills needed to accommodate to places
which they are posted (Md = 2.00, IQR = 1 was unanimously rejected by the respondents. This rejection certainly
holds implication for further research. It is hoped that the identified content would be accepted by the Acehnese
education authority to replace the previous practices of in-service teacher training programs which were carried out
without a set of curriculum.
Actions (login required)