Yassen, Tadahmun A. and Al-Kayiem, Hussain H. and Habib, Khairul (2013) Design and performance investigation of a thermal back-up system for hybrid drying. In: The Sustainable city VIII. WIT Transaction on Ecology and the Environment, 2 (179). WIT Press, UK, pp. 921-931. ISBN 978-1-84565-887-9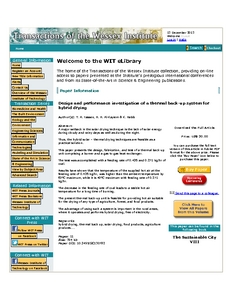 Preview
PDF




Tadahmun SC in WIT.pdf


Download (298kB) | Preview
Abstract
A major setback in the solar drying technique is the lack of solar energy during cloudy and rainy days as well as during the night. Thus, the hybrid solar – thermal drying techniques are feasible as a practical solution.
This paper presents the design, fabrication, and test of a thermal back-up unit comprising a burner and a gas to gas heat exchanger. The test was accomplished with a feeding rate of 0.426 and 0.271 kg/hr of coal.
Results have shown that the temperature of the supplied hot air at the feeding rate of 0.426 kg/hr, was higher than the ambient temperature by 60ºC maximum, while it is 40ºC maximum with feeding rate of 0.271 kg/hr. The decrease in the feeding rate of coal leads to a stable hot air temperature for a long time of burning. The present thermal back-up unit is feasible for providing hot air suitable for the drying of any type of agriculture, forest, and food products.
The advantage of using such a system is important in the rural areas, where it operates and performs hybrid drying, free of electricity.
Actions (login required)