Al-Kayiem, Hussain H. (2013) Energy sustainability through integrated solar thermal systems. In: Sustainable City VIII. WIT Transaction on Ecology and the Environment, 2 (179). WIT Press, UK, pp. 887-897. ISBN 978-1-84565-887-9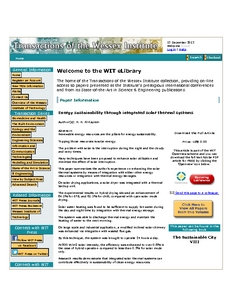 Preview
PDF




HH SC in WIT.pdf


Download (295kB) | Preview
Abstract
Renewable energy resources are the pillars for energy sustainability.Topping those resources is solar energy.The problem with solar is the interruption during the night and the cloudy and rainy times.Many techniques have been proposed to enhance solar utilization and minimize the effect of solar interruption.
This paper summarizes the author's experience on enhancing the solar thermal systems by means of integration with either other energy resources or integration with thermal energy storages.
On solar drying applications, a solar dryer was integrated with a thermal backup unit.The experimental results on hybrid drying showed an enhancement of 64.1% for EFB, and 61.1% for chilli, compared with open solar mode drying.
Solar water heating was found to be sufficient to supply hot water during the day and night time by integration with thermal energy storage.The system was able to discharge thermal energy and maintain the heating of water to the next morning.
On large scale and industrial application, a modified inclined solar chimney was enhanced via integration with wasted flue gas.By this technique, the system was brought to operate 24 hours a day.At 800 W/m2 solar intensity, the efficiency was enhanced to over 0.6% in the case of hybrid operation compared to less than 0.3% for solar mode only.
Research results demonstrate that integrated solar thermal systems can contribute effectively in sustainability of clean energy resources.
The results obtained, so far, from this research program are encouraging; and it is highly recommended to further investigate the solar hybrid and solar integration for energy sustainability from the sun.
Actions (login required)