Babiker, Areej and Faye , Ibrahima and Malik, Aamir Saeed (2013) Pupillary Behavior in Positive and Negative Emotions. In: IEEE International Conference on Signal and Image Processing Applications (ICSIPA) 2013, 8 - 10 October, 2013, Melaka, Malaysia.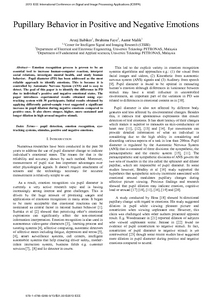 Preview
PDF




Pupillary Behavior in Positive and Negative Emotions.pdf


Download (614kB) | Preview
Abstract
Emotion recognition process is proven to be an essential tool to increase human-computer reaction, interpret social relations, investigate mental health, and study human behavior. Pupil diameter (PD) has been addressed as the most reliable approach to identify emotions. This is because it is controlled by Automatic Nervous System (ANS) and is easy to detect. The goal of this paper is to identify the difference in PD due to individual's positive and negative emotional states. The paper introduces experimental results obtained using eye-tracking system with 30 participants. Initial results obtained by applying differently paired-sample t-test suggested a significant increase in pupil dilation during negative emotions compared to positive ones. It also shows steeper, higher, more sustained and longer dilation in high arousal negative stimuli.
Actions (login required)