Ahmad, Rana Fayyaz and Malik, Aamir Saeed and Kamel , Nidal and Reza, Faruque (2013) A Proposed Frame Work for Real Time Epileptic Seizure Prediction using Scalp EEG. In: 2013 IEEE International Conference on Control System, Computing and Engineering (ICCSCE 2013), November 29 - December 1, 2013, Penang, Malaysia.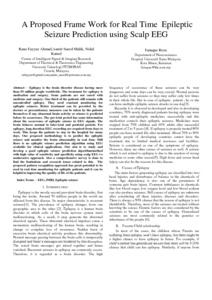 Preview
PDF




IEEE-ICCSCE 2013-Rana Fayyaz Paper.pdf


Download (277kB) | Preview
Abstract
Epilepsy is the brain disorder disease having more than 50 million people worldwide. The treatment for epilepsy is medication and surgery. Some patients are not cured with medicine and surgery. One third of the patients still remain with uncontrolled epilepsy. They need constant monitoring for epileptic seizures. Better treatment can be provided by the doctors or precautionary measures can be taken by the patients themselves if any abnormal brain activity or seizure is predicted before its occurrence. The pre-ictal period has some information about the occurrence of epileptic seizure in EEG signals. The brain behaves normal in inter-ictal and postictal periods. For epilepsy, long duration EEG recording are required from days to week. This keeps the patients to stay in the hospital for many days. Our proposed methodology is to predict the epileptic seizure and monitor the brain abnormality in real time. Still there is no epileptic seizure prediction algorithm using EEG available for clinical applications. Our aim is to study and develop a good epileptic seizure prediction algorithm/method with high value of sensitivity and specificity using scalp EEG i-e noninvasive approach. Also a comprehensive survey is done to find the limitations and research issues related to this. The proposed pattern recognition approach has great potential to be used in real time monitoring for epileptic patients and it can be helpful in improving the quality of life of the patients.
Actions (login required)