Assefa, Mickias and Faye, Ibrahima and Malik, Aamir Saeed and Shoaib, Muhammad (2013) Lung nodule detection using multi-resolution analysis. In: Proceedings of 2013 ICME International Conference on Complex Medical Engineering, May 25 - 28, 2013, Beijing, China.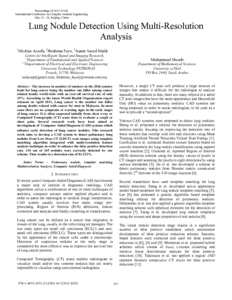 Preview
PDF




Lung Nodule Detection Using Multi-Resolution Analysis.pdf


Download (468kB) | Preview
Abstract
The increase in number of smokers in the 20th century leads for lung cancer being the number one killer among cancer related deaths world-wide with an over-all survival rate of only 15%. According to the latest World Health Organization report released on April 2011, Lung cancer is the number one killer among deaths related with cancer for men in Malaysia. In most cases there are no symptoms or warning signs in the early stages of lung cancer. It is often suspected initially from chest x-ray or Computed Tomography (CT) scans done to evaluate a cough or chest pain. Several research work have been aimed at development of Computer Aided Diagnosis (CAD) systems which enhance early detection of lung cancer nodules. This research work aims to develop a CAD system to detect pulmonary lung nodules from Low Dose CT (LDCT) scan images using template matching algorithm integrated with multi-resolution feature analysis technique in order to enhance the false positive detection rate. 134 out of 165 nodules were correctly detected by our scheme. That results in a detection rate of 81.212%.
Actions (login required)