Al-Kayiem, Hussain H. and Ning, W. and Mokhlif, N. D. (2013) Characterization of Paraffinic Composition in Crude Oils. In: International Oil and Gas Symposium and Exhibition, IOGSE2013, UMS, Kota Kinabalu, Novotel Kota Kinabalu hotel, Sabah, Malaysia.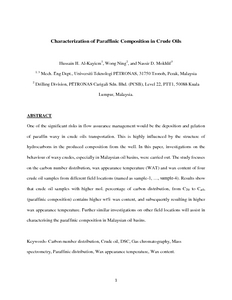 Preview
PDF




UMS-IOGSE-86 Characterisation of Paraffinic Composition in Crudes Oils [final].pdf


Download (1MB) | Preview
Abstract
One of the significant risks in flow assurance management would be the deposition and gelation of paraffin waxy in crude oils transportation. This is highly influenced by the structure of hydrocarbons in the produced composition from the well. In this paper, investigations on the behaviour of waxy crudes, especially in Malaysian oil basins, were carried out. The study focuses on the carbon number distribution, wax appearance temperature (WAT) and wax content of four crude oil samples from different field locations (named as sample-1, …, sample-4). Results show that crude oil samples with higher mol. percentage of carbon distribution, from C₂₀ to C₄₀, (paraffinic composition) contains higher wt% wax content, and subsequently resulting in higher wax appearance temperature. Further similar investigations on other field locations will assist in characterising the paraffinic composition in Malaysian oil basins.
Actions (login required)