Al-Kayiem, Hussain H. and Yunus, Y. M. (2013) DRYING OF EFB BY HYBRID SOLAR/BIOMASS THERMAL BACKUP. In: International Conference on Mechanical Engineering Research, ICMER2013, 1- 2 July 2013, Bikut Cambang resort city, Pahang.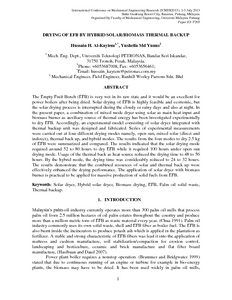 Preview
PDF




ICMER P265.pdf


Download (517kB) | Preview
Abstract
The Empty Fruit Bench (EFB) is very wet in its raw state and it would be an excellent for power boilers after being dried. Solar drying of EFB is highly feasible and economic, but the solar drying process is interrupted during the cloudy or rainy days and also at night. In the present paper, a combination of mixed mode dryer using solar as main heat input and biomass burner as auxiliary source of thermal energy has been investigated experimentally to dry EFB. Accordingly, an experimental model consisting of solar dryer integrated with thermal backup unit was designed and fabricated. Series of experimental measurements were carried out at four different drying modes namely, open sun, mixed solar (direct and indirect), thermal back up, and hybrid modes. The results from the four modes to dry 2.5 kg of EFB were summarized and compared. The results indicated that the solar drying mode required around 52 to 80 hours to dry EFB while it required 100 hours under open sun drying mode. Usage of the thermal back as heat source reduced the drying time to 48 to 56 hours. By the hybrid mode, the drying time was considerably reduced to 24 to 32 hours. The results demonstrate that the combined resources of solar and thermal back up were effectively enhanced the drying performance. The application of solar dryer with biomass burner is practical to be applied for massive production of solid fuels from EFB.
Actions (login required)