NORAZAHAR, NORAFNEEZA and Ahmad, Junaid and Abu Bakar, Suliana (2012) Utilization of Kapok Seed as Potential Feedstock for Biodiesel Production. In: 7th IASME/WSEAS International Conference on energy and environment (EE 12).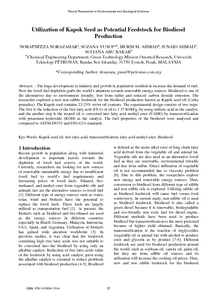 Preview
PDF




Kapok Seed conference paepr.pdf


Download (403kB) | Preview
Abstract
The huge development in industry and growth in population resulted in increase the demand of fuel.
Now the fossil fuel depletion grabs the world's attention towards renewable energy sources. Biodiesel is one of
the alternatives due to environment friendly, free from sulfur and reduced carbon dioxide emission. The
researcher explored a new non edible feedstock for the biodiesel production known as Kapok seed oil (Ceiba
pentadra). The Kapok seed contains 22-25% wt/wt oil contents. The experimental design consists of two steps.
The first is the reduction of the free fatty acid (FFA) of oil to 1.37 KOH/g, by using sulfuric acid as the catalyst,
and the another step is the treated oil is converted into fatty acid methyl ester (FAME) by transesterification
with potassium hydroxide (KOH) as the catalyst. The fuel properties of the biodiesel were analyzed and
compared to ASTM D6751 and EN14214 standards.
Actions (login required)