Shafiq, N. and Nuruddin, F (2013) STUDY THE EFFECTIVENESS OF THE DIFFERENT POZZOLANIC MATERIAL ON SELF-COMPACTING CONCRETE. [Citation Index Journal]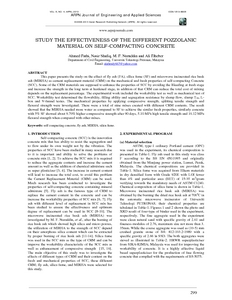 Preview
PDF




Ahmad.pdf


Download (595kB) | Preview
Abstract
This paper presents the study on the effect of fly ash (FA), silica fume (SF) and microwave incinerated rice husk
ash (MIRHA) as cement replacement material (CRM) on the mechanical and fresh properties of self-compacting Concrete
(SCC). Some of the CRM materials are supposed to enhance the properties of SCC by avoiding the Bleeding at fresh stage
and increase the strength in the long term at hardened stage, in addition of that CRM can reduce the total cost of mixing
depends on the replacement percentage. The experimental work included the workability test as well as mechanical test of
SCC. Workability test determined the flowability, filling ability and segregation resistance by slump flow, slump T50, Lbox
and V-funnel testes. The mechanical properties by applying compressive strength, splitting tensile strength and
flexural strength were investigated. There were a total of nine mixes created with different CRM contents. The result
showed that the MIRHA needed more water as compared to SF to achieve the similar fresh properties, similarly concrete
with 5% SF showed about 9.70% higher compressive strength after 90 days, 5.10 MPa high tensile strength and 10.12 MPa
flexural strength when compared with other mixes.
Actions (login required)