Endut, Mohd Nuri al-Amin and Wan Abdullah, Wan Suhaimi (2009) TOWARDS THE CONCEPTUAL DEFINITION OF ISLAMIC CRITICAL THINKING. In: The 7th World Conference on Muslim Education, 9th December 2009, Shah Alam.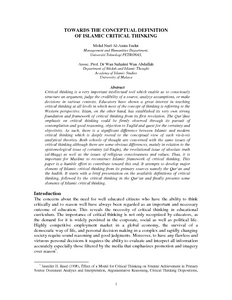 Preview
PDF




COME Critical Thinking Paper.pdf


Download (200kB) | Preview
Abstract
Critical thinking is a very important intellectual tool which enable us to consciously structure an argument, judge the credibility of a source, analyze assumptions, or make decisions in various contexts. Educators have shown a great interest in teaching critical thinking at all levels in which most of the concept of thinking is referring to the Western perspective. Islam, on the other hand, has established its very own strong foundation and framework of critical thinking from its first revelation. The Qur'ānic emphasis on critical thinking could be firmly observed through its pursuit of contemplation and good reasoning, objection to Taqlid and quest for the certainty and objectivity. As such, there is a significant difference between Islamic and modern critical thinking which is deeply rooted to the conceptual view of each vis-à-vis analytical theories. Both schools of thought are concerned with the same issues of critical thinking although there are some obvious differences, mainly in relation to the epistemological issue of certainty (al-Yaqin), the revelational issue of absolute truth (al-Haqq) as well as the issues of religious consciousness and values. Thus, it is important for Muslims to reconstruct Islamic framework of critical thinking. This paper is a humble effort to contribute toward this end. It attempts to develop major element of Islamic critical thinking from its primary sources namely the Qur'an and the hadith. It starts with a brief presentation on the available definitions of critical thinking, followed by the critical thinking in the Qur'an and finally presents some elements of Islamic critical thinking.
Actions (login required)